How To Build a Salt Cave from dream to reality…
We build world-class salt caves in Europe and all over the world. Salt Cave ProDesign is one of the first build teams in America offering full-service design and construction services, backed by superior workmanship, engineering expertise, and our salt quality guarantee.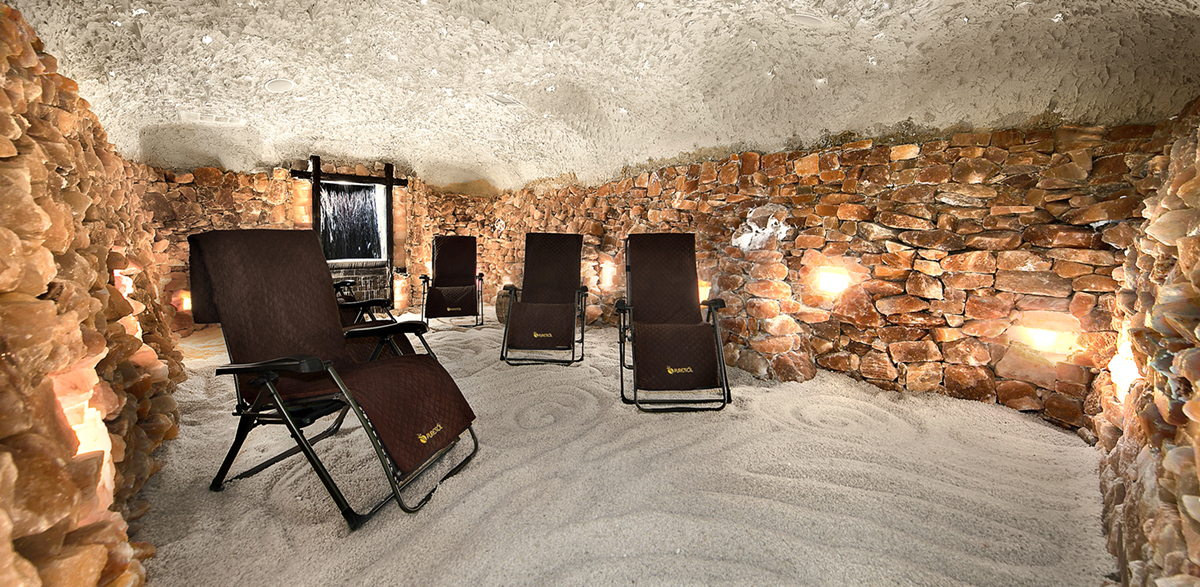 We Import, Design & Build
Whether you're looking to add a unique salt room to your home or business, decorate your existing walls, or want a custom-built salt cave from the ground up, our years of experience will help you get just what you're looking for. We do not build just any salt cave. We build real, therapeutic, custom caves that attract the attention and validation of the best in the field.
Let's make your dream come true.
Authentic Halotherapeutic Salt Caves
Imagine a man-made, salt cave (above ground or under ground), inspired by the most unique, and oldest salt mine in the World – Wieliczka Salt Mine in Poland. On average, our custom caves are built with more than 20-30 tons of salt. We specifically choose huge boulders sourced from Poland, or war-zone free and unpolluted areas, and ship them all over the world.
We meticulously shape tiles, rocks or bricks of various colors from white to pink, orange and even dark brown in to perfectly stacked, naturally looking salt walls. This is an art-form based on how the humidity of the air allows the final structure to not only stack beautifully, but also hold in the salty air. LED lights that glow from behind the salt structure illuminate the environment to ensure proper relaxation, and a look that is unique to each room.
The graduation tower is not only a grandeur, focal piece, but also works as a mechanism to help to recreate the microclimate that is special about Wieliczka. The salt brine trickles down the blackthorn branches and allows the minerals to naturally saturate the air, just as the healing environment that exists in the original Polish mine.
All our salt cave features are hand made, including the stalactite celling made with our proprietary method. Since we build our caves by hand as an art form, there are many more options that we are able to add on as your dream develops.
Salt Therapy/ Inhalation Rooms
Salt/Inhalation rooms are great choice for smaller spaces, whether they are built in the comfort of your private home or in your business as an addition to a spa, gym, hotel room, or other hospitality business. We recommend choosing the modern design (all walls are tiled and illuminated) and are equipped with medical grade salt generator for efficiency and budget.
Massage, Meditation or Yoga Rooms
Expend your new or existing business with a custom salt room designated for massage establishment, yoga center or meditation room. Enhance the benefits of the massage therapy performed in a soothing, healing microclimate surrounded by the soft glow of healing salt. Stretch your muscles and relax your mind while breathing in air saturated with negative ions and minerals and microelements.
Unique Features
The benefits of salt therapy have been known to this world since early XII century. Salt was once a high demand commodity that had a truly monetary value and was exchanged for other goods and services.
Fast forward few centuries later, it was discovered that salt had not only monetary but also health and healing benefits. In today's world saturated with positive ions, it is strongly recommended to balance the environment by introducing negative ionization, or even live in absolute negative ionization. Breathing pollution and the growing amount of allergy sensitivities is also a reason why halotherapy is in such demand. So, there is no surprise that we are now designing unique features everywhere from salt bars in restaurants to private home basements.
If you are interested in developing your unique salt cave to custom standards, please get in touch with us and we can figure out how to make your dream a reality.
Take a look at our flagship, American salt cave at Puresòlspa in Tapatio Springs Hill Country Resort, located just outside San Antonio, Texas.